A story of teamwork: Carlton Chambers' tough decision that helped Team Canada win gold  – Team Canada
CP PHOTO/COC/Claus Andersen
February 1, 2023
The men's 4x100m relay event at Atlanta 1996 produced one of Canada's greatest ever sporting achievements.
The quartet of Robert Esmie, Glenroy Gilbert, Bruny Surin, and Donovan Bailey defeated Team USA on their home turf to win the gold medal and set a Canadian record time that would stand for 20 years.
WATCH: Team Canada Rewind with Bruny Surin describing the gold medal race
But this victory might not have happened—if not for an act of teamwork off the track.
Track and field isn't usually thought of as a team sport, but that all changes for the relay events. The four runners on a team each run a portion of the race and pass a baton to the next runner. Every runner has their role, and every athlete must run a world class sprint.
The Canadian men's 4x100m relay team celebrate after winning the gold medal at the Olympic Games in Atlanta, Saturday, August 3, 1996. Seen from left to right are Robert Esmie, Bruny Surin, Donovan Bailey and Glenroy Gilbert. (AP Photo/Denis Paquin)
Canada's men's 4x100m relay gold medal winners left to right Bruny Surin, Glenroy Gilbert, Donovan Bailey and Robert Esmie at the 1996 Atlanta Summer Olympic Games. (Photo: Claus Andersen/COC)
At 21 years old, Carlton Chambers was the youngest member of the Canadian 4x100m relay team. There are many photographs of the Olympic champions smiling and holding their gold medals on the podium, but you won't find Chambers in any of them. Yet, he played a key part of the victory.
Chambers ran in the heats of the 200m before taking up his duties as the leadoff runner of the 4x100m relay. But as he finished his individual sprint, he knew something wasn't right.
"I got a little tweak in my groin. I wasn't performing the way I was used to," he recalls. "I was in pain."
He believed he had enough time to heal and prepare for the upcoming relay. The team of physiotherapists, massage therapists, and doctors all did their best to help him. It seemed like progress had been made, and he was ready to do his part in Canada's race for the gold medal.
Racing in the first round of the relay, Chambers felt discomfort in his groin. His sprinting wasn't up to his usual lofty standards. But the coaches were focused on the handoff between the last two runners, Surin and Bailey. They were moving so fast that they almost fumbled the last baton exchange in the heats. That could have led to a disqualification, so no one paid much attention to Chambers' slower-than-usual run.
Canada's Carlton Chambers competes at the Atlanta 1996 Olympic Games. (CP PHOTO/COC/Claus Andersen)
Canada's Carlton Chambers at the Atlanta 1996 Olympic Games.(CP PHOTO/COC/Claus Andersen)
But in the semifinals, it was clear that Chambers was the slowest runner on the team. He knew why, even if the others didn't. Trying harder wasn't going to work. His hidden injury could cost the Canadians their chance at a medal.
Right after the race Chambers had a conversation with Mark Lindsey, a chiropractor who was at the Games working with Bailey. Struggling to finish his cool down, Chambers spoke to Lindsay about his injury. His groin just wasn't right, and he was unable to run with his normal power and speed. Although the team had qualified for the final, Chambers knew in his heart that his Olympic journey had to end, or his injury would cost the team.
"It was one of the toughest decisions I ever made in my life."
It was hard for Chambers to admit to an injury and give up his spot on the team.
"I was crying when Mark told the guys."
Despite the tears, he knew he was doing the right thing.
With the news of Chambers' injury, Esmie was called up to run the leadoff leg of the final. He was in the shape of his life and ready to kickstart the team with an explosive run out of the blocks. Esmie was so confident that he shaved the words "BLAST OFF" in his hair to signal to everyone that he was there for serious running.
Before the final Chambers gave Esmie a hug and said, "It's your time to shine." Chambers cheered on his teammates from the stands as they raced to victory.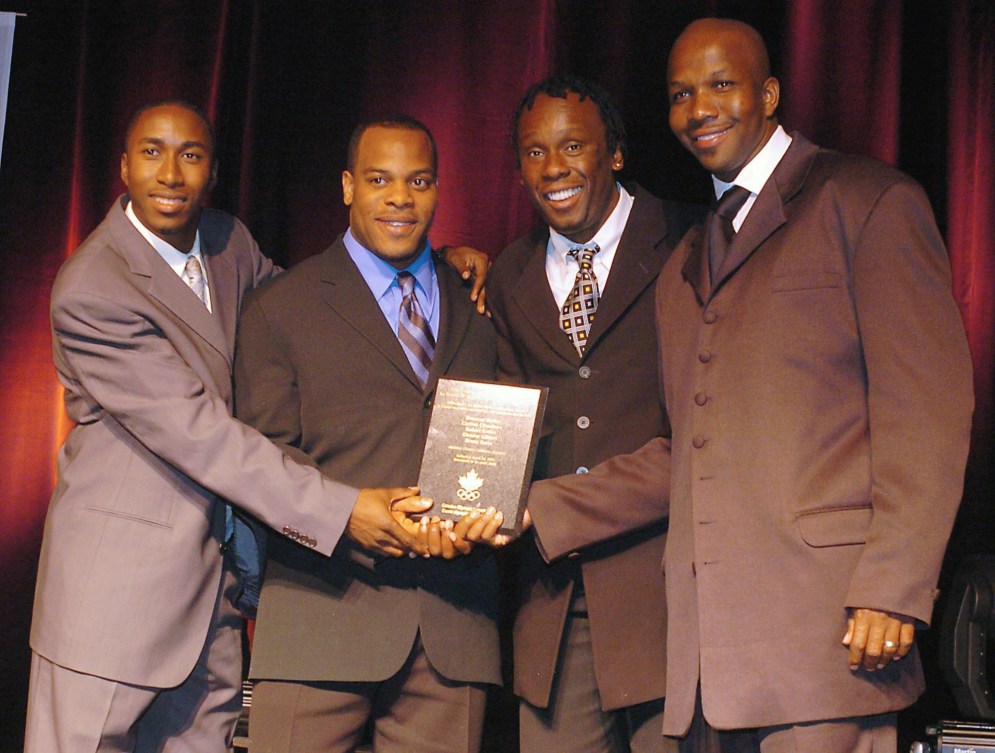 New inductees to the Canadian Olympic Hall of Fame, members of the Atlanta 1996 4x100m relay team (left to right) Robert Esmie, Carlton Chambers, Bruny Surin and Donovan Bailey during a ceremony in Montreal, Friday April 16, 2004. (CP PHOTO/ François Roy)
Chambers learned the value of team spirit as a young soccer player. He is now a sprint coach in Mississauga, Ontario. He teaches the importance of fair play and teamwork to his athletes.
"My mom, she was a team player. She would help take care of kids who came from Jamaica. She was also a member of the union at work. My mom always instilled in me that 'you always need to do for others before you do for yourself.' It's a blessing to do for others."
Carlton Chambers' story was originally featured as part of the Canadian Olympic School Program's Black History Collection. The resources at the link above are available at different reading levels and are accompanied by discussion questions and learning activities.