Back to the office – and cutting the lawn
Breadcrumb Trail links
News
Local News
Fedeli 'very excited' about prospects for new PC majority government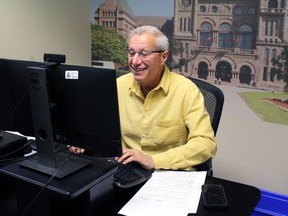 It was back to the Friday morning office for Vic Fedeli, just hours after winning re-election in Thursday's provincial election. Nugget File Photo
Article content
Vic Fedeli didn't really take much of a chance to bask in his fourth consecutive election as Nipissing's MPP Friday.
Advertisement 2
This advertisement has not been loaded yet, but your article continues below.
Article content
That morning, only hours after he took just over 50 per cent of the votes cast in the riding, he was back in his Main Street North Bay constituency office.
On the weekend, he was busy cutting his lawn.
Monday morning he was back in the office.
Tuesday, he caught the 9 am flight to Toronto.
"I didn't miss a beat," he said Tuesday from Toronto.
There will be more of the back-and-forth shuttle from Queen's Park to his riding and then back again to Toronto for the Prospectors and Developers Association of Canada show next week, where he will be holding the 60-plus North Bay-based mining companies up to the spotlight.
That focus is especially important with the emphasis on the critical minerals needed for the province's move into the electric vehicle market, a huge part of Doug Ford's campaign, after pouring billions of dollars into the automotive sector over the last 18 months.
"This is going to be the future," Fedeli said in a telephone interview. "This is our time. It is our time to seize the moment. The door is open."
It is also time, Fedeli said, for the mining companies in the North to get ready for expansion.
The critical minerals – nickel, lithium, cobalt, the rare earth elements – are essential to the electric vehicle industry, and, if the newly re-elected Ford government is correct, could make the province a world leader in the industry.
But they aren't the only ones.
Fedeli is also eyeing the "huge stockpiles of aggregates" on both sides of the highway leading into Timmins, the detritus of the mining industry that could play a role in the construction industry around the province.
Advertisement 3
This advertisement has not been loaded yet, but your article continues below.
Article content
"There's miles of it," Fedeli said, and "rather than creating new aggregate pits in southern Ontario," could be shipped on Ontario Northland trains to where it is needed.
"This is a huge opportunity for many mining companies to marry up with companies in Toronto" and elsewhere in southern Ontario for a product which has already been extracted and is now sitting in the open.
"What we are saying, as long as the eyes can see, there are these tailing piles. All the aggregates are already out of the ground. Instead of looking for new pits, we have got it sitting on the ground now.
"It would be great to use the existing aggregates. It's a super economic development opportunity."
Fedeli is also confident that Ontario Northland can resume its passenger train service to Northeastern Ontario by 2025. The former service, the Northlander passenger train, last ran in September, 2012.
"I still think that is a good estimate" for resumption of service, Fedeli said.
"We have seen the business plan prepared by Ontario Northland. We have put money into the business plan. There is no question it is a priority."
Fedeli also believes that, with the Progressive Conservatives picking up two more seats in Northern Ontario – the party now has five Northern Ontario members in its 83-member caucus – this region of the province is well represented by the government side.
The party picked up a seat each in Thunder Bay and Timmins in Thursday's election, and Fedeli believes his government can deliver economic development, jobs and attainable housing across the region.
Advertisement 4
This advertisement has not been loaded yet, but your article continues below.
Article content
"You are going to see a lot of focus on the North over the next four years," he said, pointing to investments in health care, mental health and addictions now underground or shortly to get shovels in the ground.
"We ran on an economic development and job creation platform," he said. "You won't find any critical minerals on Bay Street or in southwestern Ontario."
Shortly before the election, he said, Ford announced agreements between the province and two of the final Indigenous partners to open up the Ring of Fire development in Northwestern Ontario.
Environmental assessments are or will shortly be underway, necessary for the construction of an access road to the region to ship the minerals out.
Ford, he said, is committed to construction of the road to the Ring of Fire, depending on the results of the environmental assessments.
"We will start one road for sure. That's the most practical method" at this time, but "rail access continues to be discussed."
Fedeli says he is looking forward to the next four years.
"I'm excited. Very excited. We have a huge mandate. We have a very serious majority government. . . that covers across the province.
"There's a lot to be excited about."
Share this article on your social network
Advertisement 1
This advertisement has not been loaded yet, but your article continues below.
Comments
Postmedia is committed to maintaining a lively but civil forum for discussion and encouraging all readers to share their views on our articles. Comments may take up to an hour for moderation before appearing on the site. We ask you to keep your comments relevant and respectful. We have enabled email notifications—you will now receive an email if you receive a reply to your comment, there is an update to a comment thread you follow or if a user you follow comments. Visit our Community Guidelines for more information and details on how to adjust your email settings.