Five B.C. cities on Canada's top 10 'rattiest' cities list
Article content
BC is home to five of Canada's top 10 "rattiest" cities, with Vancouver coming in second on the national list, according to Orkin's annual survey.
Article content
Toronto takes the lead, followed by Vancouver.
Article content
Burnaby, Kelowna, Victoria and Richmond were also popular with the rodents.
The pest control company said it saw bolder rodent activity and migration to residential neighborhoods in 2021 during the pandemic.
Food scarcity caused some signs of aggression among rodents including street fighting and territoriality.
But as a pandemic fears wane and people and businesses return to Canadian cities, food sources are once again abundantly available for rats and mice.
"With more available food, there will be exponential population growth," said Alice Sinia, an entomologist with Orkin Canada in a press release.
"Food availability favors population growth since there will be less competition for food, which also will result in high reproductive potential, high survival and healthy thriving populations."
Article content
The company's annual rankings are based on rodent treatments performed from August 1, 2021 to July 31, 2022 Including both residential and commercial treatments.
Rodent sightings are usually up as cooler weather approaches and rodents seek warm shelter, it said.
Some rodent-proofing tactics residents can take include sealing cracks or holes in foundations or walls; installing weather stripping around windows and doors; and keeping shrubbery at least a meter away from exterior walls.
Orkin's top 10 rattiest cities in Canada in 2022 are:
Toronto
vancouver
Burnaby
Kelowna
Mississauga
Calgary (mice only)
Victoria
Richmond
Edmonton (mice only)
St John's
Orkin's top 10 rattiest cities in BC in 2022 are:
vancouver
Burnaby
Kelowna
Victoria
Richmond
surrey
vernon
Coquitlam
Port Coquitlam
Langley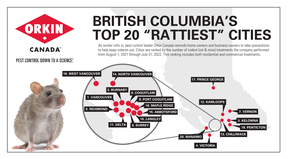 British Colombia's top 20 rattiest cities list.