Growing Things: Replacing your lawn with vegetables and flowers
Breadcrumb Trail links
gardening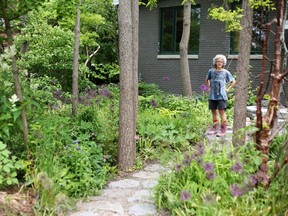 Master Gardener Joyce Hostyn stands on the path that meanders through her wild forest yard. Photo by Meghan Balogh /Postmedia
Reviews and recommendations are unbiased and products are independently selected. Postmedia may earn an affiliate commission from purchases made through links on this page.
Article content
Q: I hope you can offer some advice on a question I have regarding lawns. I have had enough of fighting with weeds, watering and fertilizing and would like to convert my lawn into a more functional area. My plan is to remove the grass and grow more vegetables for myself and flowers for the bees. Is this something that can be done and how do I go about starting this? It seems rather daunting when I look at this massive expanse of lawn.
Advertisement 2
This advertisement has not been loaded yet, but your article continues below.
Article content
A: The timing of your email is interesting because I just finished reading two articles on how lawns are becoming a thing of the past in many areas. When I started to do background research on the topic I was surprised at how much has been written about the removal of lawns and replacing them with environmental alternatives.
I recently read that there are approximately seven million lawns in Canada. Many of us are guilty of falling into the 'I love my lawn' train of thought. With that comes a variety of chores, costs and environmental impacts. These include water, fertilizer, mowing, weeding, insect control and edging. There is a growing movement afoot that seems to be gaining popularity to replace the lawn. This movement is led by horticulturists, ecologists, biologists and landscape designers.
Advertisement 3
This advertisement has not been loaded yet, but your article continues below.
Article content
What is driving this change? Lawns may be aesthetically pleasing but they are virtually a desert when it comes to providing food or habitat for insects. The lawn lovers out there are probably thinking it's a good thing not to have bugs. We have to remember that we rely on pollinating insects like bees, moths and butterflies to pollinate our food crops.
Offering the declining population of pollinators more in the way of eco habitat is a way of helping stop the decline of these insects that are occurring worldwide. An excellent paper on this topic can be found on the Canadian Wildlife Federation (CWF) website https://www.uoguelph.ca/canpolin/Publications/Poll_decline_ENG_MC3-1.pdf
The CWF also has a program called Grow It Don't Mow It that offers great resources on how to manage your property by setting aside a portion for pollinators.
Advertisement 4
This advertisement has not been loaded yet, but your article continues below.
Article content
As for being overwhelmed, I suggest that rather than tackling the transformation as a whole, why might not approach the change in stages? You mentioned that you wanted to grow more flowers and vegetables. That really is an excellent approach since the flowers will attract pollinators who in turn will pollinate your vegetables that need pollination. Why not create your vegetable patch first. You can rent a sod cutting machine from a rental company and remove the sod yourself or you can do the eco-friendly method by covering the lawn with heavy black plastic landscape and leaving it in place for a year. The plastic will kill the grass and the following year you can till the dead grass into the soil adding organic matter in the process.
Advertisement 5
This advertisement has not been loaded yet, but your article continues below.
Article content
The following year you can prepare your bed for the native flowers. By three years you should have both beds ready for your vegetables, flowers and pollinators. The alternative is to hire a landscaping company and have it done in one fell swoop. The key with the flowers is to use native species. We are so programmed to buy the exotic varieties when the native plants are hardier, suited to grow under most conditions and attract pollinators.
The bottom line here is that by transforming your lawn:
You protect pollinators who are our partners in the food chain
You reduce 48 kilograms of greenhouse gases emitted by a gas-powered lawnmower in a single season
You eliminate the use of manmade chemical fertilizers that leach into the water table
You conserve the 70% of water that is treated by the city that goes to watering lawns
Advertisement 6
This advertisement has not been loaded yet, but your article continues below.
Article content
For more information on this topic please follow these links:
https://www.cbc.ca/news/canada/calgary/calgary-garden-rethink-lawn-1.5561485
More information on how you can help pollinators can be found on the Edmonton and Area Land Trust website at https://www.ealt.ca/protecting-pollinators
Every week, Growing Things Outdoors runs online at edmontonjournal.com or, if you prefer an epaper format, epaper.edmontonjournal.com
Learn more by emailing your questions to [email protected], reading past columns at https://edmontonjournal.com/author/geraldfilipski or my book Just Ask Jerry. You can also follow me on Twitter @justaskjerry01.
Share this article on your social network
Advertisement 1
This advertisement has not been loaded yet, but your article continues below.
By clicking on the sign up button you consent to receive the above newsletter from Postmedia Network Inc. You may unsubscribe any time by clicking on the unsubscribe link at the bottom of our emails. Postmedia Network Inc | 365 Bloor Street East, Toronto, Ontario, M4W 3L4 | 416-383-2300
Thanks for signing up!
Comments
Postmedia is committed to maintaining a lively but civil forum for discussion and encouraging all readers to share their views on our articles. Comments may take up to an hour for moderation before appearing on the site. We ask you to keep your comments relevant and respectful. We have enabled email notifications—you will now receive an email if you receive a reply to your comment, there is an update to a comment thread you follow or if a user you follow comments. Visit our Community Guidelines for more information and details on how to adjust your email settings.