The Weather Network – Canada's monthly outlook: Summer surges into September
Summer started across Canada, but it has definitely slowly made up for lost time with a strong finish. Will this pattern continue through September? To find out, please read on.
DON'T MISS: Weatherproof your back-to-school with these selections
However, before we get to our September forecast, here is a quick recap of what we saw across Canada during the month of August.
Warmer than normal temperatures dominated across nearly all of Canada during August. This is highlighted by the various shades of orange on the temperature anomaly map below.
In fact, for many communities across western Canada and in Atlantic Canada, August 2022 was one of the hottest Augusts on record. This includes much of the south coast of BC, Edmonton, Calgary, Saint John, Gander and St. John's.
While the length of daylight is quickly getting shorter every day and "normal" temperatures quickly fall through the month of September, the overall pattern of warmer than normal temperatures across most of Canada will continue to dominate through the month of September.
Here is our forecast for September 2022.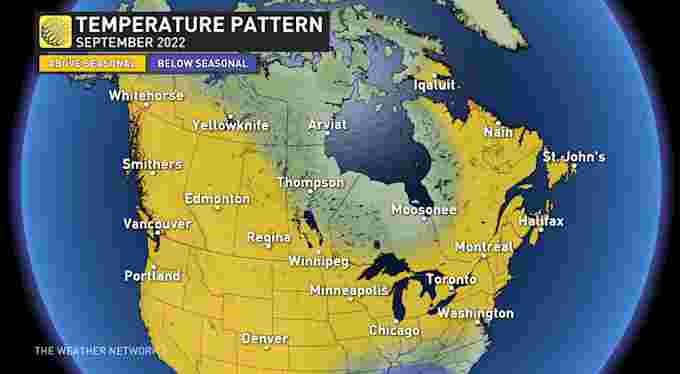 We expect that all of Canada will be warmer than normal or near normal for the month. Notice that we do not have "colder than normal" temperatures for anywhere in Canada on the forecast map.
This means that there will be more opportunities to savor warm summer weather (especially during the first half of the month) before colder weather begins to dominate.
Of course, there will be shots of cooler weather to remind us that we are heading into autumn, but the periods of warmer than normal weather will outweigh the cooler weather for most of the country.
However, for parts of northern Canada, northern Manitoba, northern Ontario and northwestern Quebec, the back-and-forth temperature swings should come close to offsetting each other and result in near normal temperatures.
WATCH: Labor Day long weekend looks hot for some, unsettled for others
Early September is also expected to be relatively dry across most of Canada with widespread drier than normal conditions, and this pattern is expected to persist deep into the month.
MUST SEE: Don't let your lawn care routine 'fall behind' this season
However, as we head towards the second half of September, we will closely watch the tropics. While the hurricane season has been historically quiet so far, September is the peak of the hurricane season.
Once the tropics become more active, the anticipated pattern and the much warmer than normal ocean water temperatures in the eastern Atlantic gives us a higher than typical risk for some tropical impacts on the region.
We all know that as we get deeper into the fall season, colder weather will eventually win out. However, is the warmer than normal start to the season a sign of what is to come for the rest of fall, or should we brace ourselves for an abrupt transition to a colder pattern?
To answer this question, please check back on Tuesday, September 13th, when we release our fall forecast for the rest of September, October and November.